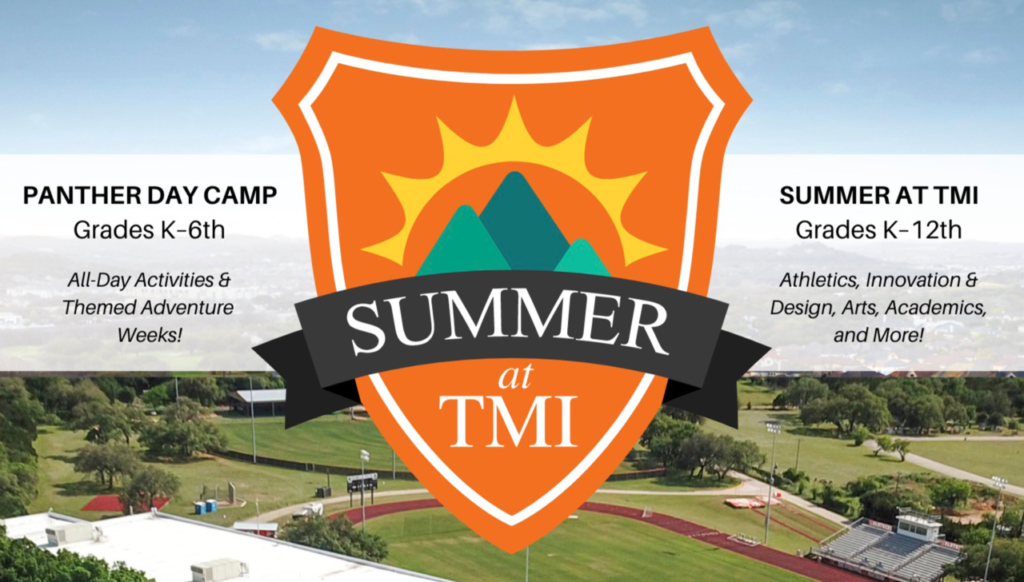 Experience a Panther Summer!
Summer At TMI
Registration is OPEN!
Students from all schools welcome
Ages: rising K-12th
Registration is open for Summer At TMI. Many of our camps and favorite programs fill up quickly, so don't wait to reserve your child's spot in a variety of camps and activities. View the online catalog of camp and program offerings and register online using the link below.
https://sites.google.com/tmi-sa.org/tmi-episcopal
2022 Summer At TMI programs
Ages: rising K–12th grades
Dates: See the online catalog for sessions and dates
TMI Sports Academy
• Baseball, Football, Lacrosse, Soccer, Tennis, & Volleyball
• Nike US Sports Camps: Basketball & Volleyball
• Premiere Lacrosse League Overnight Camp
TMI Academic Academy
• For credit courses: Geometry, Innovation & Design, Religion in San Antonio
• Enrichment courses: 7th & 8th Grade English and Math, Algebra I Review, Algebra II Review and Trigonometry Introduction, Band, Introduction to French, SAT Math and Verbal by More Than a Teacher
• Student programs: Panther Preview (6th grade student orientation) and Panther Power Up (9th grade student event)
TMI Innovation & Design Camps
• Innovation and Design; Minecraft Champions; Robots, Lasers, and 3D Printers Camp
TMI Marksmanship Camps
Panther Day Camp
Ages: rising K–6th
Dates: June 6–July 22
A full-day camp experience (M-F) for Rising K-6th grade students. Panther Day Camp provides a safe and enriching environment for campers to participate in activities and learning experiences. Our camp focuses on having fun while learning and building self-esteem and social skills through new activities.
Weekly themes will keep campers engaged and provide a basis for kids to learn about themselves and the world around them.
Panther Day Camp Weekly Themes:
Week One: June 6-10 Superhero Week
Week Two: June 13-17 Outdoor Adventure Week
Week Three: June 21-24 Mad Science (4-day session)
Week Four: June 27-July 1 Water Works
Week Five: July 5-8 Around the World (4-day session)
Week Six: July 11-15 Hogwarts Express!
Week Seven: July 18-22 Treasure Hunters Week!